The most talented student dances rock'n'roll and the best sportsman plays beach volleyball
The Representative Ball 2018 took place on Monday, December 3, traditionally in the Lucerna, Great Hall. Almost 2 000 students, employees, alumni and friends of the University of Economics,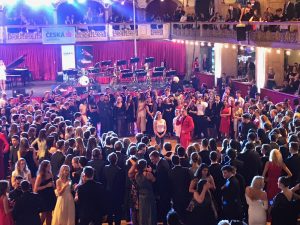 Prague didn't miss it. All in dresses and suits with angels or devils accessories because of the angels and devils theme of the ball.
The program included not only ballroom dancing and joy but also awarding ceremony of talented students. There are studying promising economists, statistics, accountants, diplomates and entrepreneurs at University of Economics, Prague and also talented and successful young people. The contests VŠE Got Talent and The Best Sportsman prove it every year. Representatives of VŠE award the skills, talents and successes which are not so obvious when students are studying.
This year results:
VŠE Got Talent
1. place – Marie Dvořáková a Jiří Jakubec /acrobatic rock'n'roll/
2. place – František Šalanda /saxopfone show/
3. place – Filip Dohnal a Štěpánka Chvasteková /jive dance/
4. place – Jesper Nijboer /guitar and singing/
5. place – Elizaveta Poloskova /singing/
The Best Sportsman
1. place – David Schweiner /beach volleyball/
2. place – Alexandra Filipová /kickbox/
3. place – Tereza Brožová /kayak, raft/
Photo gallery – VŠE Got Talent
Photo gallery – Ball