E-application for Master in International Management (CEMS) open till February 28, 2020
The University of Economics, Prague offers 8 international Master's study programmes. We introduce all of them on the website during January and February. The Open House Day of Master's programmes taught in English will be held in Rajská Building/Rajská budova (RB 211) on Wednesday, March 4, 2020 from 6 pm.
You may submit your e-application for the Master in International Management/CEMS programme till February 28, 2020. All the requirements necessary for completing your application can be found here.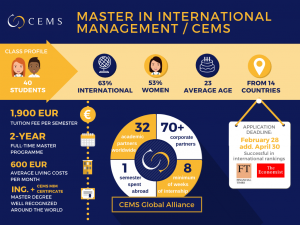 About CEMS
Academic excellence: Through the partnership in CEMS Alliance the programme is benchmarked by top business schools in the world.
International exposure: A study stay abroad at a chosen CEMS university and an internship abroad are indispensable parts of the programme.
Networking: By joining CEMS the students become part of an international network active on a global scale.
Real-life experience: Students take part in various courses and seminars where they solve real-life business problems along with companies.
Socializing: Once a CEMSie, always a CEMSie! With CEMS you will get an opportunity to attend various cultural and professional events.
Master's Programme in International Management/CEMS is a full-time two-year programme taught in English at the Faculty of Business Administration. CEMS consists of 33 Academic Members (1 university for each country is allowed) and 70+ Corporate Partners (usually leading and multinational companies). Academic Members in cooperation with Corporate Partners offer international postgraduate students a unique blend of high-quality education and professional experience.
The programme is designed for top students demonstrating academic excellence, professional skills, international openness and social responsibility with interests and career intentions in an international environment. Its mission is to inspire and develop future generations of international business leaders.
Programme CEMS taught at the Faculty of Business Administration has been ranked number 8 out of 135 schools globally, in the QS Masters in Management rankings 2020. The programme has also placed 8th in this year's Financial Times global Master in Management Ranking 2019, maintaining its place in the top 10 every year since the rankings began in 2005, and 8th in The Economist's Masters in Management 2019 Ranking.
Apply HERE.
Contact: martina.cizkova@vse.cz
For more information, please visit cemsmim.vse.cz